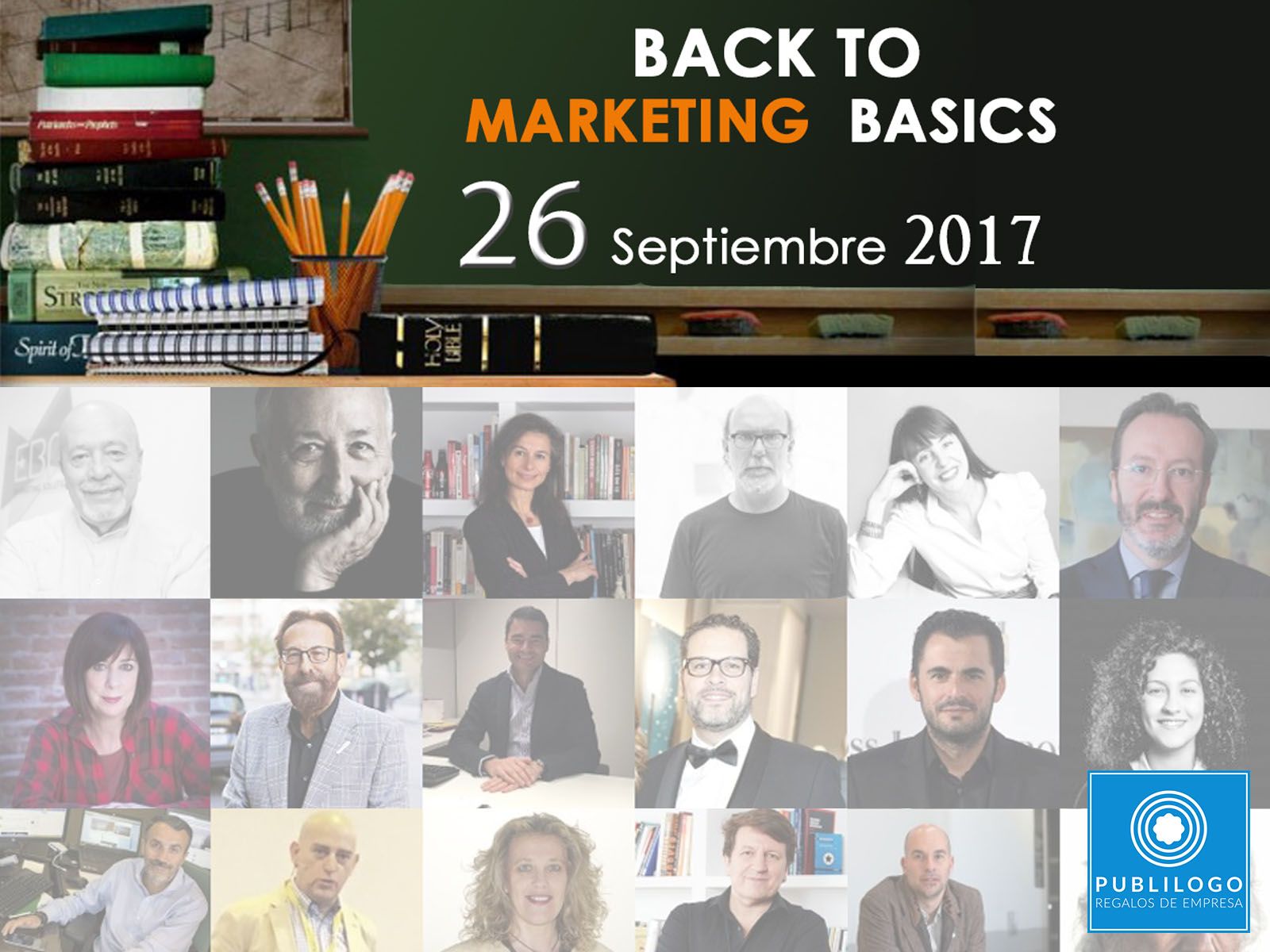 Colaboración en el evento Back to the Marketing Basics 2017
Publilogo Regalos de Empresa colabora en el evento Back to the Marketing Basics 2017 organizado por MarketingDirecto.
El próximo día 26 de septiembre tendrá lugar la primera edición del evento «Back to the Marketing Basics» organizado por el portal web especializado en marketing, publicidad y medios MarketingDirecto.com.

Durante la jornada se tendrá la oportunidad de volver a poner sobre la mesa los -olvidados- básicos del marketing de la mano de expertos de referencia de este sector.

Los ponentes son los siguientes:

– Carlos Fernández Guerra (Director Digital & Social Media en Iberdrola)
– Miguel Justribó (Director de Comunicación Corporativa de Telepizza)
– Margarita Rodríguez (Directora de Publicidad en Hyundai Motor España)
– Javier Piedrahita (Editor – Fundador de MarketingDirecto.com)
– Manuel de la Rica (Empresario y publicista)
– Miguel Ángel Furones (Country Chairman de Publicis Communications España)
– Diana Gavilán (Prof. de Marketing UCM – Investigadora de marketing sensorial y experiencial)
– Toni Segarra (Fundador de *S,C,P,F)
– Maylis Chevalier (Country Manager Ligatus Spain)
– Jaime Lobera (Director de Marketing y Ventas en Campofrío Food Group Holding)
– Sergio Rodríguez (Director del Centro de Documentación Publicitaria)
– Agustín Medina (Consultor en Comunicación y Marketing)
– Paco González (Director de FIAP Iberia y Patrono de la Fundación Cultural RACE)
– Marcos De Quinto (Ex Senior Advisor to the CEO at The Coca-Cola Company)
– Carmen López (Accenture Interactive lead para Iberia – España, Portugal e Israel)
– Ricardo Pérez (Presidente y director creativo de Ricardo Pérez Asociados)
– José Álvaro Moreno García (Industry Marketing Manager Havas Media España)
– Rafael Martínez (Director General en CMVocento)
– Emiliano Suarez (Strategic Marketing Manager en Aristocrazy)
– Estíbaliz Ruíz (CEO de @mktrendpodcast y Blogger sobre Marketing Digital y Social Media)

Publilogo Regalos de Empresa, a través de la tienda www.regalosdeempresa.es colabora en el evento con una sorpresa que estamos seguros que dará mucho juego entre los invitados.



Etiquetas:colaboración, evento, marketing, regalos de empresa, regalos eventos